Simple Strategies for Impulsive Behaviors
Impulsivity is a hot topic!
Impulsivity is a HOT TOPIC!
Inhibition is the executive function skill that allows one to stop their behavior, actions, and/or thoughts at the appropriate time. Impulsivity is the lack of inhibition.
That's all it means! So what does this look like?
not following directions
inconsistent performance on tasks
touching things... other people's things.. other people
restlessness or other active behaviors
difficulty turn-taking and waiting
Let's talk strategy!
PAUSE!!
Teach them to take a breath, pause, process- even just a few seconds before responding.
Process time is so important for building this skill.
This is for those that are raising their hands before the question has been asked, or responding before communication is completed.
I love this traffic light graphic for teaching this concept.
Taking the time to verbalize the questions and create a plan is incredibly powerful.
For teens, impulsivity can have significant consequences, learning this skill to apply everywhere in their lives is critical.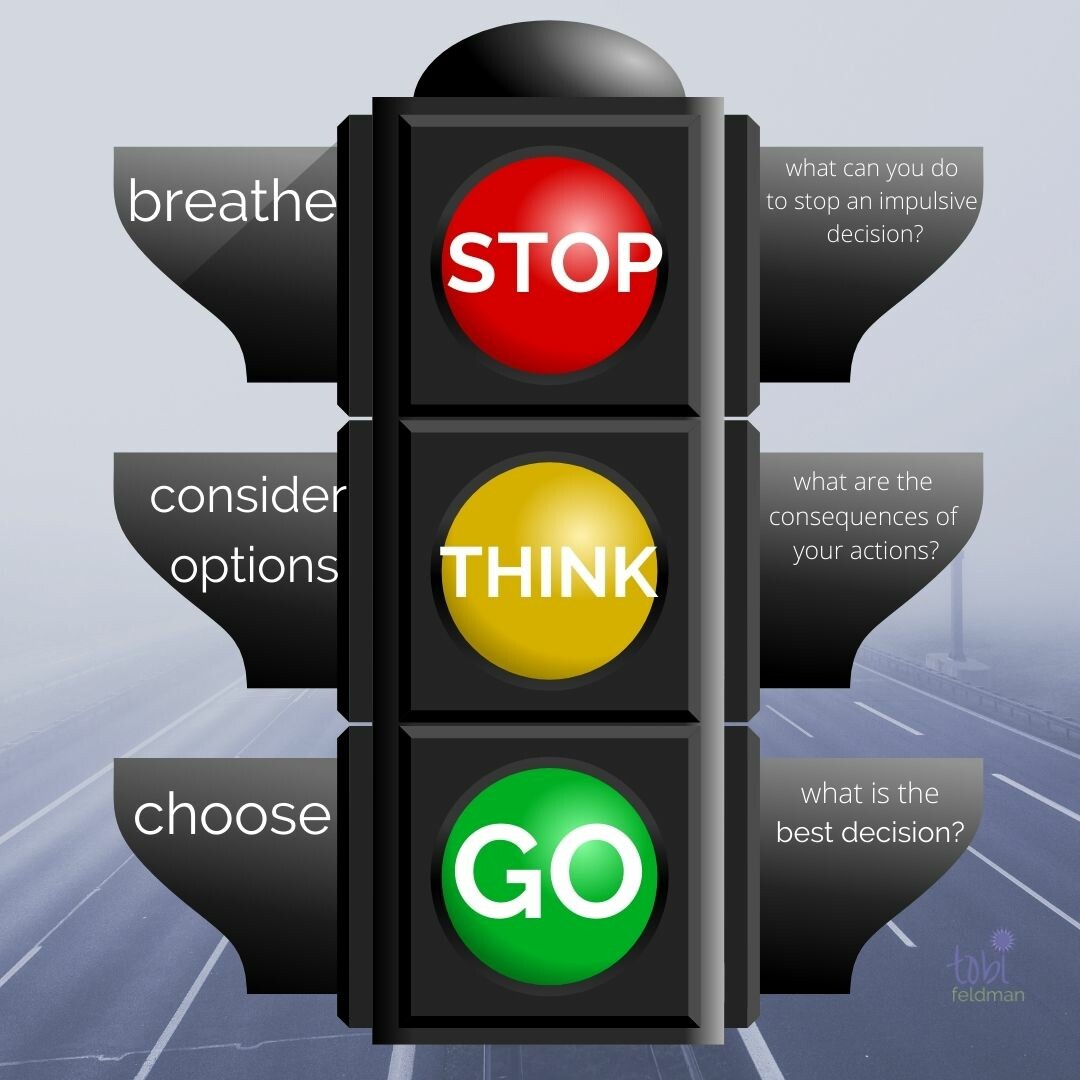 VISUAL!
Provide visual options such as a text, a note, posting on the wall, or writing on the board. Visually processing can slow down the impulsivity. Provide clear expectations and reminders.
It also helps support working memory, planning and organization.
MONITOR
As parents (and/or teachers) we don't want to hover!
That said, for some students it's helpful to have someone nearby. For example, with remote schooling right now, I hear many parents concerned about limited focus and attention, which leads to impulsive behaviors.
Co-working can be highly supportive. The student is on the computer doing their classes and the parent is in the same room on the computer doing their work.
In a classroom students can be strategically placed in the front row and/or they may have an aide or a resource room teacher in the classroom.
Monitoring isn't about squashing the behaviors, it's about redirecting the energy.
POSITIVITY!
When my kids were younger I learned about the importance of focusing on their positive behaviors. Admittedly, this has been one of my biggest struggles. This is where my impulsivity appeared...the negative behaviors always seemed to be illuminated and right in front of my face.
When we seek, focus and acknowledge the positive behaviors we are also helping build inhibition.

Want to hang with a bunch of resilientAF midlife mamas?
Facebook group! You are not alone! We get it!
Categories: executive function, impulsivity